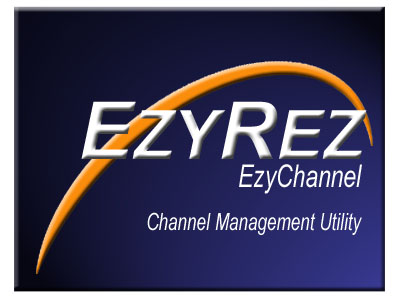 EzyChannel is EzyRez's channel management utility. This tool will allow you to maintain your inventory and pricing for all online distribution points, within one easy to use interface. Featuring a large number of connected sites (see below) and backed up by on going development and quality IT infrastructure, EzyChannel will allow you to secure bookings before your competitor does.
For EzyRez Online Premier clients, the system is true "set and forget" with full integration to EzyRez for availability and pricing. Bookings can drop straight into the system, saving time and eliminating data entry errors.
EzyChannel allows users to maximise booking opportunities, yield for best tariff outcomes and control seasons and special dates, all while keeping all sites up to date with the latest information.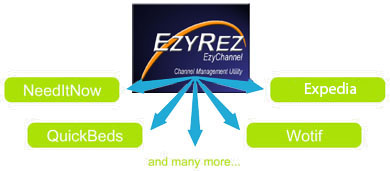 Sites we connect to:
AA New Zealand, AAA Tourism, Accommodation Guru, Agoda, Amsterdam30, Asiarooms, AsiaTravel, Atrapalo, AustraliaBedBank, Australian Accommodation Data Exchange (AADX), Bali Hotel Guide, Base Backpackers, Blue Holidays (Virgin), BookEasy (VIC's), Booking.com, Bookit, BookToday, Budgetplaces, CentralLondonApartments, CentralR, CentralReservations, CheckIn, City base Apartments, ClearTrip - Coming Soon, Cradle Coast Tourism, Ctrip, Discover Australia, Discover NSW - Coming Soon, Discover Queensland - Coming Soon, Discover Victoria - Coming Soon, Discover WA - Coming Soon, EasyToBook, easy-breaks.com, ECCO Tours, eLong.com, Engrande, Enjoy Vacations, eTourism Holidays, Expedia, Ezibed, GlobeKey, Globeres, gnconcierge.com, Golden Chain, GoIndonesia.com, Gonla.com - Coming Soon, GoStay/Best Rates, Government.travel, GrabOne - Coming Soon, Holiday City, Holiday Guide NZ, hooroo, Hostel Bookers, Hostelworld, Hotel Network, Hotels.com, Hotel.de, Hotel.nl - Coming Soon, Hotels2go, Hotels4U, Hotelbeds, HotelClub, Hoteliers.com - Coming Soon, Hotelshop, HotelTravel.com, Hothotels.com.au, Hotusa Hotels - Coming Soon, Hotwire, HRS, icastelli.net, InnTopia, ImpulseFlyer.com, Jasons, Jetsetter - Coming Soon, Jetstar, KiwiRail - Coming Soon, Lastminute.com, Latestays.com - Coming Soon, Laterooms, LeisureCom, Lido, Events, London30, Londonnights.com, Loving Apartments, M-Power/World Blue - Coming Soon, MakeMyTrip, Mr & Mrs Smith, MyBookings.com.au, NeedItNow, Not1Night, NZBedBank, Orbitz, OzAccom - Coming Soon, PacificBedBank, Pan Pacific Travel, PegiPegi, Powderbeds, Prestigia - Coming Soon, PricelineHK, Qantas, Quantum Reservations - Coming Soon, QuickBeds, Rakuten, ReadyRooms, RewardsCorp, Rezserve, Roamfree, RoomAllot, SAA, SkiTravelCompany, Splendia, Standby Rates/Ok Jack, Stay247, Superbreak, Tablet Hotels, Thomascook.com, ThinkHotel.com -NEW, Tiket.com, TotalTravel, Trademe, TravelBug, TravelStay, Travel.com.au, Travel Concierge Sydney Airport, Travelocity, TravelRepublic, Ubid4rooms, Uni Hotel Rates - Coming Soon, University.travel, Venere, VIP Backpackers, Whistler.com, WorldBlue - NEW, Worldview Wotif, YukTravel - NEW, zanadu - NEW  
Wholesalers we connect to:
AOT/Sunlover Holidays, GTA - Coming Soon, Hotelbeds, JacTravel- Coming Soon, RoomAllot, Tourico - Coming Soon, Transhotel 
GDS we can connect to: 
Genares, HotelREZ, iHotelier, InnTopia, SynXis